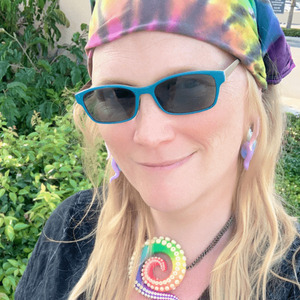 Kerri Miller
Special guest
Kerri Miller is a Software Developer and Team Lead based in the Pacific Northwest. She has worked at enterprise companies, international ad agencies, boutique consultancies, start-ups, mentors and teaches students. She currently is a Senior Backend Engineer at Gitlab, and also works for Ruby Together on RubyGems.org and Bundler.
While that is all factually true, it doesn't describe an actual person. Kerri has an insatiable curiosity, having worked as a lighting designer, marionette puppeteer, sous chef, and farm hand. She attended college to study performance production, was once a semi-professional poker player, has strong opinions about keycaps, knows some sweet yoyo tricks, enjoys melting glass with a blowtorch, and rides her motorcycle ridiculous distances for no good reason. Asked to describe herself in two words, she thought a bit and replied "lackwit gadabout."
Kerri Miller has been a guest on 1 episode.
August 10th, 2022 | 41 mins 53 secs

community management, developer experience, developer relations, devrel

Before the pandemic, we, as DevRel practitioners, focused most of our speaking efforts on in-person events. Now we have the option of speaking at in-person, virtual, and hybrid conferences. With this experience now in our rearview, let's look ahead to rediscovering what the advantages are and what we get out of in-person events knowing what the other side looks like.