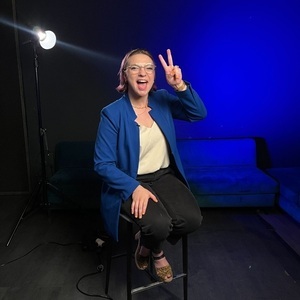 Erin Mikail Staples
Special guest
Erin Mikail Staples is a very online individual passionate about facilitating better connections online and off. She's forever thinking about how we can communicate, educate and elevate others through collaborative experiences.
Currently, Erin is a Senior Developer Community Advocate at Label Studio. At Label Studio — she empowers the open source community through education and advocacy efforts. Outside of her day-job, Erin is a comedian, graduate technical advisor, no-code content creator, triathlete, avid reader, and dog parent.
Most importantly, she believes in the power of being unabashedly "into things" and works to help friends, strangers, colleagues, community builders, students, and whoever else might cross her path find their thing. Read more about her and what she stands for on her coming from page.
Erin Mikail Staples has been a guest on 1 episode.
March 20th, 2023 | 47 mins 13 secs

community management, developer experience, developer relations, devrel

We've seen a lot of strange habits when it comes to hiring DevRel folks over the past few years. But recently, a surprising phenomenon has occurred: a large-scale layoff or re-org leading to many folks in DevRel being suddenly unemployed. What are the knock-on effects we can expect from this? What are folks impacted by this doing as next steps?